New VANGO series RGBW panel lights with three models: the VANGO-70, VANGO-100, and VANGO100L
Jun 16, 2022 by SWIT Online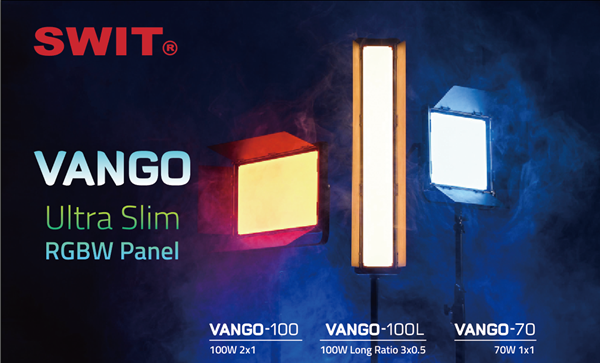 | | |
| --- | --- |
| | |
| | |
| $799 | $1099 |
Key Features:
1) The VANGO panels are brighter than its competitors in RGB mode. Indeed, the VANGO-70 (70W) can reach the brightness of other 200W RGB products, and the VANGO-100 (100W) has an output comparable to other 300W RGB panels.
2) Only 2.1cm/0.78in thick, these ultra-slim panels feature a robust metallic housing. Furthermore, they are lightweight for portable usage and can be powered via the built-in V-Mount/Gold-Mount battery plate.
3) Entirely fanless; no fan = no noise.
4) The built-in diffuser creates a natural soft light; no extra diffusor or softbox is needed.
5) Built-in DMX input and output ports. New SWIT Console App for wireless Bluetooth control.
6) 3.5inch color LCD panel to easily control and see/adjust your light settings, all light effects, GELs, etc.
Video lighting power consumption is increasing daily, making it difficult for filmmakers on the market to find an RGBW lighting product suitable for small scenes as a key light or fill light.
SWIT is filling a gap in the market with its new inventions: the VANGO-70, VANGO-100, and VANGO-100L* RGBW panel light. These LED panels are an excellent solution for professional users requiring lightweight, compact, and low-power draw lighting solutions.
The design of the VANGO series is based on SWIT's popular PL-E60, PL-E90, and PL-E90L lights. The VANGO-70 is a 1x1 70W panel, the VANGO-100 is a 2x1 100W panel, and the VANGO-100L* is a 3x0.5 100W panel. All VANGO series lights are made entirely of metal and integrate removable aluminum 4-leaf barndoors.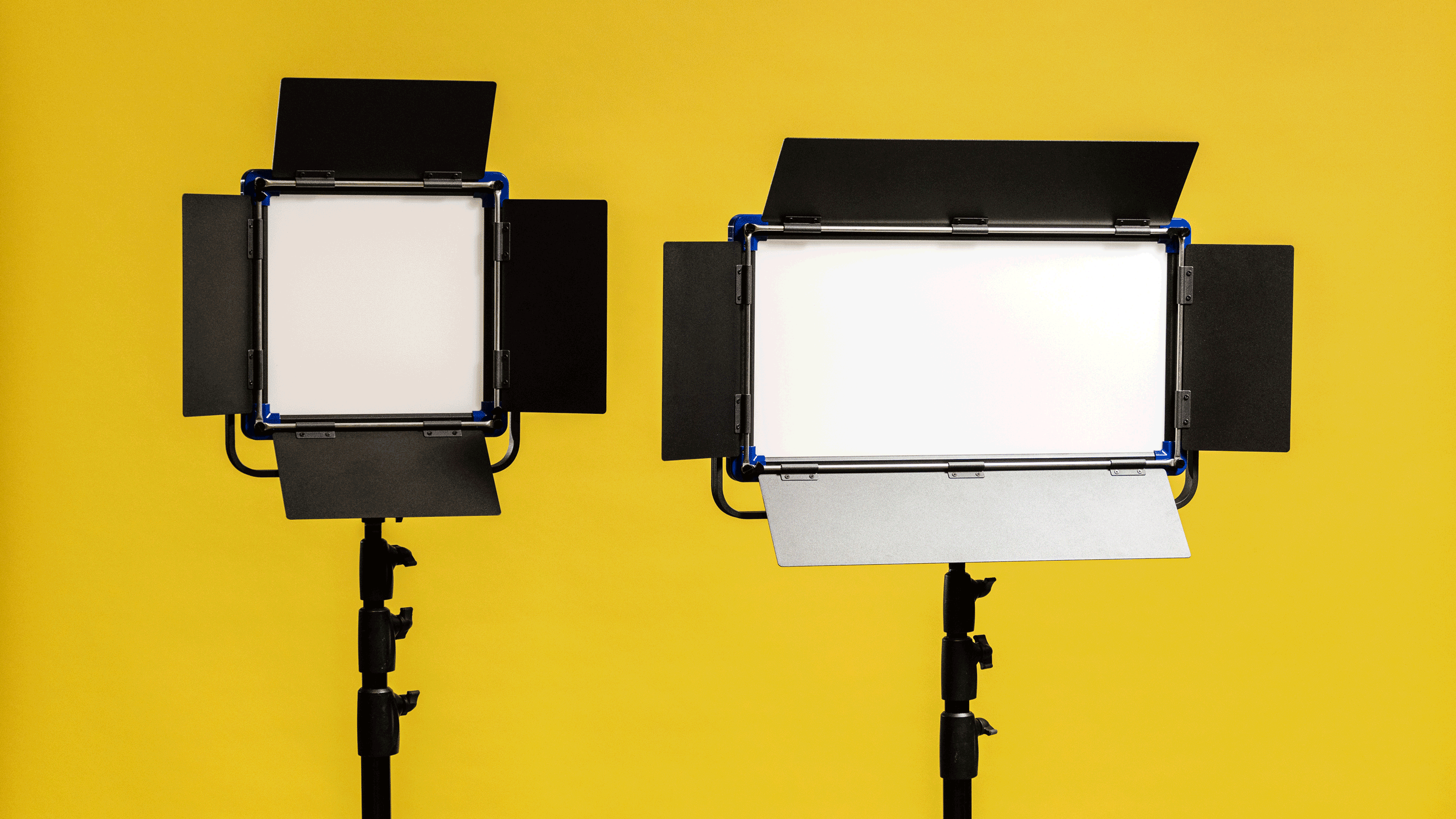 Brighter with unique Time-Division Technology
The VANGO is very thin, but its compact size doesn't mean making compromises on brightness, the result of SWIT's patent: Time-Division technology. This technology results from intensive calculations and numerous experiments; SWIT's engineers innovatively made VANGO break through the limitation that other RGBW panels faces.
Indeed, in color mode, most RGBW panels can only output 1/3 of the Red, Green, or Blue channel's brightness. With SWIT's unique Time-Division technology, VANGO panels have a much higher RGB output than other RGBW products of the same power.
The VANGO-70 encloses a color brightness comparable to traditional 200W power RGBW lights, while the VANGO-100 goes even further with a color brightness output that rivals conventional 300W power RGBW lights. It means that VANGO panels are brighter but consumes less power. Furthermore, you get longer runtimes when using V-Mount/Gold-Mount batteries.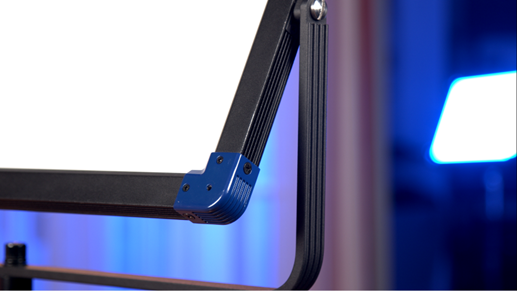 Color Accurate
In CCT mode, the VANGO can go from 2800K to 10.000K with a high and accurate CRI of 95 and a TLCI of 92.
In addition, the panel's built-in diffuser creates a very soft light and eliminates the need for a softbox. Perfect for interview setups and beauty shoots, the VANGO's soft light wraps beautifully around the model's face without extra lighting modifiers. Lastly, the built-in diffuser eliminates the unpleasing "multi-shadow phenomenon."

Thinner
VANGO panels use SWIT's unique Edge-mounted technology to shrink the size to the limit. It is extremely thin at only 21mm/0.78in. This is also the first time this technology has been used on an RGBW panel light.
A pocket battery makes it convenient for flexible arrangement in small scenes.
Quieter

VANGO says goodbye to heavy cooling components and adopts passive metal cooling. The fanless design saves space, reduces weight, and makes zero noise. You can put the light as close to the talents as possible; your microphone won't catch any noise from the VANGO.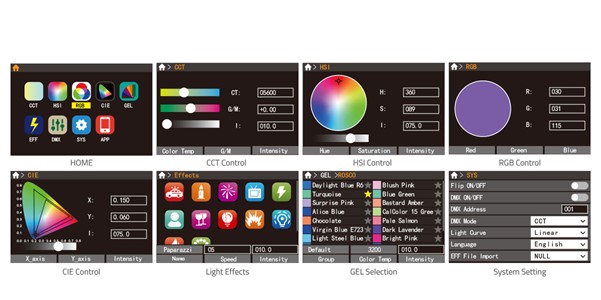 The VANGO integrates a 3.5-inch color display on the back. With the knob hotkey, gaffers can easily adjust color and brightness with high precision. In addition to CCT/HSI/RGB/CIE/Light Effects, there is also a Gel selection mode, which provides Rosco and Lee Gels, and supports Gels import. Filmmakers can quickly and easily dial the desired settings with one hand only.
The VANGO also benefits from the new free SWIT Console mobile APP, available for iOS and Android devices. In addition, the User Interface has been highly optimized to achieve precise operation in seconds.
SWIT Console

Professional Inputs and Outputs
The VANGO series maintains the professional level of SWIT products with professional-grade inputs and outputs. At the back, you'll find 5-pin DMX input and output ports, an integrated V-mount/Gold-mount battery plate, and a USB port for firmware updates. Everything in a sturdy and durable reinforced housing that does not fear heavy use. All panels come with removable aluminum 4-leaf Barndoors.
Lighting solution
SWIT provides lighting solutions for conference halls, and live/virtual studios based on SWIT lighting products, including the new VANGO series. For more details, please contact Contact@swit.cc